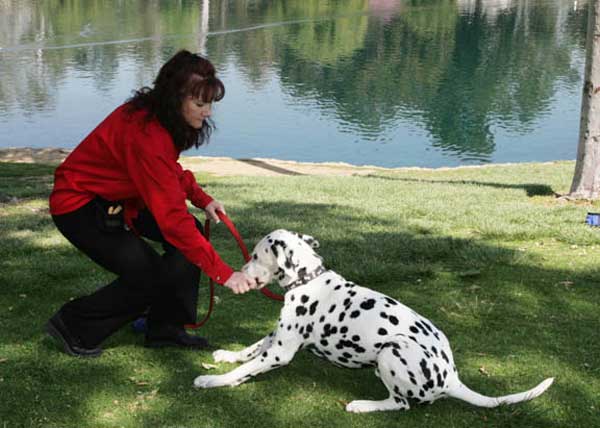 Be sure you have finished The Clicker lesson!
Teaching the sit, down & stand are very easy, but may require patience. Instead of physically putting the dog into position, saying the command & hoping he makes the connection, you will be helping him to discover them. Have a bunch of tiny soft treats ready. You are going to use one as a "lure" to help him to get into the position you want. The lure is only used at the beginning - I will show you how to quickly fade it. (Be careful to follow the instructions carefully for that as you want your dog to always respond to you, whether or not you have a treat!). Stand or kneel in front of your standing dog. Show him a treat in your hand, then move it slowly from his nose up & back a bit over his eyes but slightly out of reach. Most dogs will rather quickly sit so they can better reach it. You might need to be patient & wait for a moment. But when he does, immediately C&T and praise. Please remember that the click has to come at the exact moment his rear hits the ground so he learns that that is what got him the treat! At this point you want to give the treat right away, too. It's okay if your dog gets up after the click - the click actually ends the exercise each time. If he doesn't sit at all - maybe keeps backing up trying to get the treat, then just turn away & ignore him for a few moments. Of course... don't give him the treat! Then try again, from the start.
Notice that I never said when to say "Sit." That's because it is best to wait until the behavior is being performed reliably before adding the verbal cue. That way he doesn't connect the word with the wrong behavior. Also, dogs learn the hand signals much more easily so tend to ignore the verbal commands that go along with them. It's best to teach them separately.
Once your dog is sitting, lure him into a stand by moving a treat from his nose straight out (stay parallel to the ground, if you lift up at all he will try to sit again!). Don't move the treat very far - you want him to just get off of his haunches and then stand still. As soon as he lifts into the standing position, C&T!
To continue practicing sitting & standing until that is easy. Be sure at this point you are reinforcing each correct response with a C&T.